Gold Coast Australia – Surf & Beach Lifestyle Photos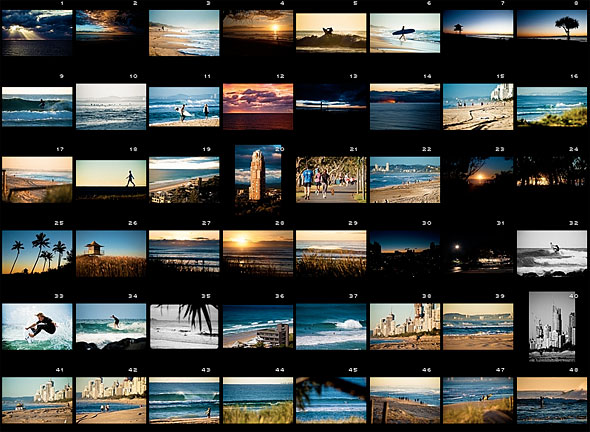 The Gold Coast Australia is renown for its great surf & beaches, fantastic climate & a great lifestyle. It's also where I lived for a big chunk of my life before relocating to Wellington, New Zealand. So I am fortunate enough to have lived that lifestyle by the beach, & being able to surf almost every day when there were waves.
I returned to the Gold Coast for two weeks there during May 2010 & wanted to capture some of these aspects of the Gold Coast life. My aim was to get up every morning just before sunrise & go down to the beach & photograph for an hour or so. Luckily for me, it was getting pretty close to winter & sunrise was at a some what respectable hour of 6.30am. I've done it before in summer, & because there is no daylight saving on the Gold Coast, sunrise is just before 5am!
The weather was pretty much perfect for the whole time I was there with tops around 21 degrees celcius during the day. Even the early mornings were warm enough on some of the days to head out for a surf in just boardies. This was a far cry from the weather Wellington was getting while I was away. I was even getting emails from people in Wellington a little disappointed that I had posted photos on my facebook photography page of prefect weather & pristine conditions on the Gold Coast, while they suffered in icy cold southerlies & driving rain for much of the time I was away. Good timing for me I say!
The only thing I missed & was hoping for while I was there, was more waves. There were a couple of perfect offshore days where the beachies were firing, but I was hoping for more swell so I could get a chance to shoot some decent waves on the points. I did manage to head down to Burleigh Heads to shoot one day when there was a bit of swell, but it was pretty small on the point. However, I did get a few shots, but it would be nice to catch it on a classic day at Burleigh.
There are 53 photos in total. You can watch the slideshow below & click on the photos to be taken to a larger version of it, of you can click here or on the photo above to go to the gallery.

Gold Coast Australia | Surf & Beach Lifestyle – Images by Mark Gee
---