Australian Kiteboarder Magazine Interview – Mark Gee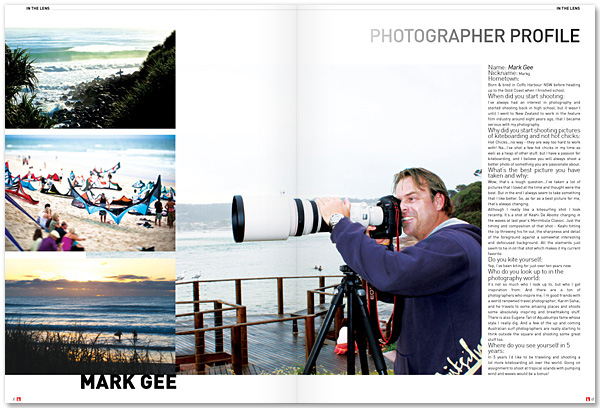 Recently I was fortunate enough to be interviewed by Australia's leading kiteboarding magazine –  Australian Kiteboarder as part of their photographers profile. The interview appeared in their March 2011 edition of the magazine. A couple of my other photos were also published in that edition too – thanks KBMag! Below is the interview in full.

NAME: Mark Gee
NICKNAME: markg
HOMETOWN:
Born & bred in Coffs Harbour NSW before heading up to the Gold Coast when I finished school.
WHEN DID YOU START SHOOTING:
I've always had an interest in photography & started shooting back in high school, but it wasn't until I came to New Zealand to work in the feature film industry around 8 years ago that I became serious with my photography.
WHY DID YOU START SHOOTING PICTURES OF KITBOARDING AND NOT HOT CHICKS:
Hot Chicks…no way – they are way too hard to work with! Na…I've shot a few hot chicks in my time as well as a heap of other stuff, but I have a passion for kiteboarding, & I believe you will always shoot a better photo of something you are passionate about.
WHAT'S THE BEST PICTURE YOU HAVE TAKEN AND WHY:
Wow, that's a tough question…I've taken a lot of pictures that I loved and at the time and thought was the best. But in the end I always seem to take something that I like better. So as far as a best picture, for me that's always changing. Although I really like a kitesurfing shots I took recently. It's a shot of Keahi De Aboitiz charging in the waves at last year's Merimbula Classic. Just the timing & composition of that shot – Keahi hitting the lip throwing his fin out, the sharpness & detail of the foreground against a somewhat interesting & defocused background. All the elements just seem to tie in on that shot which makes it my current favorite.
DO YOU KITE YOURSELF:
Yep, been kiting for just over 10 years now.
WHO DO YOU LOOK UP TO IN THE PHOTOGRAPHY WORLD:

It's not so much who I look up to, but who I get inspiration from. And there are a ton of photographers who inspire me. I'm good friends with a world renowned travel photographer, Karim Sahai, and he travels to some amazing places and shoots some absolutely inspiring and breathtaking stuff. There is also Eugene Tan of Aquabumps fame who's style I really dig. And a few of the up & coming Australian surf photographers are really starting to think outside the square and shooting some great stuff too.
WHERE DO YOU SEE YOURSELF IN 5 YEARS:
In 5 years I'd like to be traveling & shooting a lot more kiteboarding all over the world. Going on assignment to shoot at tropical islands with pumping wind and waves would be a bonus!
GIVE US YOUR BEST PHOTOGRAPHY TIP:
Best tip that always saves me a heap of time when editing is never use the auto white balance function on your camera. Go with one of the presets or custom white balances instead. That way the white balance of all your shots during the shoot will be consistent, & you probably won't have to spend the extra time editing the white balance of each shot individually in post.
WHAT BRAND OF GEAR DO YOU SHOOT WITH AND WHY:

Canon, as I believe Canon cameras & lenses are the best when it comes to sports photography, which is obviously pretty important for kiteboarding. Sure, Nikon has some strengths over Canon (like less noise artifacts when shooting on a high iso) But for me Canon excels in most areas (although I wish they had made the 1D MkIV with a full frame sensor)
LAND SHOOTING OR WATER:
Shooting land is my favorite, I just like to have more control over the composition of my shots. But I also enjoy the challenge of shooting water – it's always a buzz when you pull off a great water shot!
GIVE THE KITERS YOUR BEST RIDER TIP IF YOU'RE TAKING THEIR PICTURE:

Just be natural & don't pose for the camera. (unless I ask of course) Hopefully you won't even see me taking the shot. And if I'm shooting in the water & you think you are going to run me over, don't worry, just do your thing & I'll try to do mine…you have to get pretty close for a good fisheye shot.
HOW DO WE GET HOLD OF YOU IF WE WANT YOU TO TAKE OUR PICTURE:

Just head to my website: markg.com.au & you can contact me from there. Or if you want to keep up with my latest shots & projects, then just 'like' me on my Facebook page: www.facebook.com/markgphoto
---