The Art of Night – The Photography of Mark Gee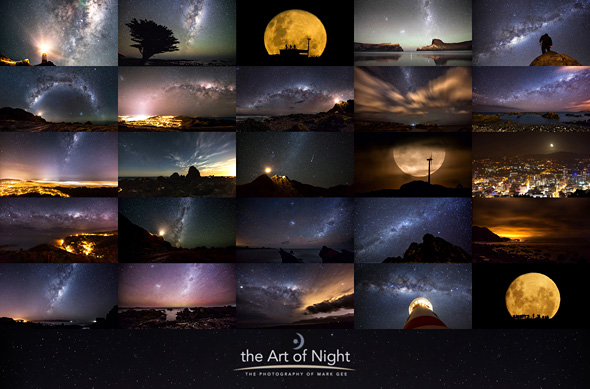 The Art of Night is a short film of highlights from my astrophotography journey. It contains imagery from when I first seriously started photographing the night sky until recently when I won the 2013 Astronomy Photographer of the Year.
Images, time-lapse and video were shot over a period of three years around the Wellington region on the North Island of New Zealand. This region is blessed with relatively low light pollution and has some of the darkest skies in New Zealand once you head out to the remote areas of the Wairarapa.
Overall I shot more than 20,000 individual images for the time-lapse with the final edit consisting of just 3,000 of those. This equates to approximately 25 hours of real time footage within the film.
I hope you enjoy the the film as much as I did making it, and please feel free to share!!
Special thanks must go to Carter Observatory, who have been a big supporter of my astrophotography, and a wealth of knowledge for my learning journey of the night sky: carterobservatory.org
The time-lapses you see in this film are powered by the Syrp Genie: syrp.co.nz
A big thanks also to the guys from PhotoPills who provided me with their app which helped me plan a lot of the shots that you see in this film: photopills.com
This entire film was shot on Canon camera and lenses: canon.co.nz
The Music – Dark Horizons by Richard Canavan was licensed for the film: premiumbeat.com/royalty_free_music/songs/dark-horizons
The Art of Night from Mark Gee on Vimeo.
---