The Art of Night – 2014 The Year That Was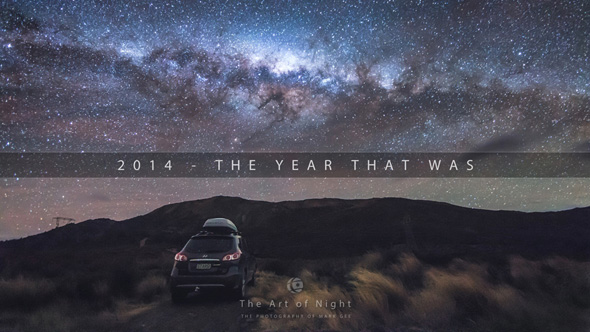 2014 was a great year for me in astrophotography, and this video is a showreel of the highlights of my year. From Rising Star Byron, to my TEDx talk in Christchurch New Zealand, my year was full of amazing photo opportunities and events.
Below are links to the full length videos that I mention in this showreel – feel free to also check those out.
Rising Star Byron: vimeo.com/83126935
City Lights To Dark Skies: vimeo.com/92093160
Night Streaker: vimeo.com/106771359
TLC – Artist Profile: youtube.com/watch?v=fsh64IUJ_aI
TEDx talk: youtube.com/watch?v=IOzdXNXzDqE
There are so many people and companies who I dealt with and supported me throughout 2014 – I'll list those further down the page, but firstly I'd like to thank all of you who have followed me and spread the word about my work on the social networks – the support you guys have given me in 2014 has been amazing…thank you so much, and I'm looking forward to showing you more exciting projects in 2015!
---
Many Thanks To
500px • Adventure.com • Canon New Zealand • Carter Observatory • DFS
Friends Of NASA • International Dark Sky Association • Kapiti Heliworx • PetaPixel
PhotoPills • Space.com • Syrp • TEDx Christchurch
The Learning Connexion • Weta Digital
Becky Bateman • Kaila Colbin • Rob Dickinson • Pippa Drakeford • John Field
Derek Gerstmann • Jonathan Green • Jörg Holberg • Rachel Ingram • Kaveh Kardan
Kat Kellock • Annabelle Kent • Hugh MacDonald • Thomas Milazzo • Haritina Mogosanu
Sarah Munn • Vanessa Patea • Phil Plait • Kylie Plunkett • Rafael Pons
Diane Quilindo • Karim Sahai • Matt Sharpe • Rhian Sheehan • Brett Skinner
Simon Waterhouse • Eva Weber • Matty Worthington
And to all those photographers and artists who inspire me every day.
The Art of Night – 2014 The Year That Was from Mark Gee on Vimeo.
---